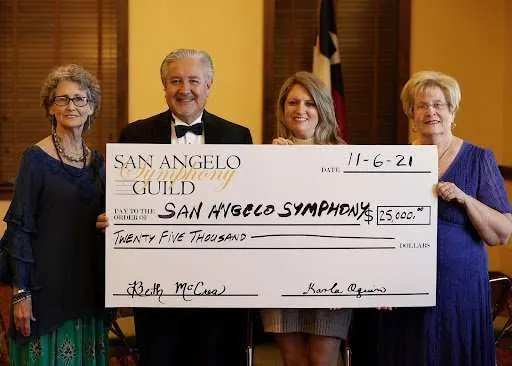 The San Angelo Symphony Guild
Organized in 1955, the San Angelo Symphony Guild's mission is to foster and promote education, participation, appreciation of and financial support for the San Angelo Symphony and symphonic music in the Concho Valley.
SAN ANGELO SYMPHONY GUILD 2021-2022 BOARD OF DIRECTORS
EXECUTIVE ADVISORS: Deborah Arledge & Holly Stovall 
PRESIDENT: Karla Oquin
VICE-PRESIDENT: Beth McCrea 
SECRETARY: Yevonne Buckner-Jaramillo 
TREASURER: Fran Grogan 
AMBASSADORS: Slade Moffat
BEAUX & BELLES: Carrie Henson & Karin Kuykendall
FUNDRAISING: Michele DeRusso 
GUILD RELATIONS: Candis Hicks 
MEMBERSHIP: Holly Stovall 
PUBLICITY: Letisia Lopez 
SYMPHONIC RELATIONS: Kate Guy
The San Angelo Symphony Senior Beaux & Belles Program
Each year, the San Angelo Symphony Guild hosts a Gala event to celebrate and honor the Guild's senior belles and beaux. On this evening, they are formally presented to the public and honored for their volunteer work to the Guild, Symphony, and community. Along with the presentation, the evening includes a cocktail hour, fine dining, live and silent auctions, and musical entertainment and dancing.
The San Angelo Symphony Guild Beaux & Belles Program
The Beaux and Belles program offers a three-year experience for boys and girls that includes education, training, and social enrichment, providing participants with lifetime memories. Participants will have the opportunity to learn about symphonic music and experience it first hand at concerts and special events.
 They will be provided opportunities for community service and social activities with their peers. Beaux and Belles successfully completing the program are presented at the grand Symphony Guild Gala and recognized for their service to the community and the Symphony Guild. Additionally, they become eligible and are encouraged to continue their volunteer service in the Ambassador Program. The program begins for seventh-grade volunteers and certain activities are required by the participant to maintain their eligibility in the program as they move forward into their eighth and ninth-grade year.
Beaux and Belles participants require a sponsor. This can be a parent, family member, or friend willing to commit their time to guide their participant through the program. Sponsors are required to become active Guild members during this student's seventh, eighth and ninth-grade years. Beaux and Belles sponsorship is not without rewards, as the experience of mentoring your participant as they learn and enjoy symphonic music, the importance of community involvement, guiding them through social activities, and forging lasting friendships are part of your experience. Sponsors are encouraged to continue their commitment to the Symphony Guild after their Beau/Belle completes the program.
For more information regarding the Beaux and Belles program, please contact us at [email protected]
The San Angelo Symphony Guild Ambassadors Program
The San Angelo Symphony Guild Ambassadors Program is designed to provide successful Beaux and Belles continued opportunities to grow their leadership skills.
The Ambassadors will be asked to attend Symphony Guild Membership meetings, mentor the Beaux and Belles and provide service hours at Symphony and Symphony Guild events. This volunteer opportunity is unique to the Symphony Guild and provides Ambassadors a glimpse into social event planning, peer mentoring and volunteerism, as they will be required to collectively design a community service project and execute it as a team. The program is open to high school students who have completed the Beaux and Belles program and requires a short essay and letters of recommendation before acceptance. After completing the Ambassadors Program, senior high participants are eligible to apply for a competitive scholarship awarded by the San Angelo Symphony Guild upon acceptance into an institution of higher education.