July 1949
Initial organization of the San Angelo Symphony Society.
November 1949
First Concert. Dr. Eric Sorantin of San Antonio was the First Conductor.
1955
San Angelo Symphony Guild was established.
1959
Eric Sorantin Young Artists Competition established1965 the name changed to Hemphill-Wells Sorantin Award for Young Artist in cooperation with and funding from the Hemphill-Wells Foundation. Read more about the Sorantin Competition.
1967
Eric Sorantin retires; Charles Blackman, Associate Conductor of the Dallas Symphony Orchestra, became conductor. Blackman organized the first San Angelo Symphony Chorale.
1968
The first Symphony Gala was held.
1973
Joined with the Abilene Philharmonic to provide and share conductor, musicians, and guest artists. George Yaeger Conducted both the San Angelo and Abilene Orchestras.
1978
Dissolved relationship with Abilene and employed Gene Chartier Smith, San Angelo's first resident conductor. Smith also served as orchestra coordinator for the San Angelo Public Schools.
1979
Subscription concert series increased to 5 concerts.
1980
Dissolved relationship with Abilene and employed Gene Chartier Smith, San Angelo's first resident conductor. Smith also served as orchestra coordinator for the San Angelo Public Schools.
1983
25th Anniversary of the Hemphill-Wells Sorantin Young Artist Competition. The finals were added to the regular subscription series, making a total of 6 events.
1984
Subscription series increased to 7 events: Six symphony concerts plus the H-WS Finals. SASO plays to its first standing room only audience.
1985
SASO presents its first Kinder Concert(s). Symphony Guild reinstates the Symphony Gala.
1986
SASO plays to largest audience ever: 3500 at the Texas Sesquicentennial Pops Concert at the Coliseum. SASO presents its first pair of concerts – The Christmas Pops Concerts, with a combined total audience of 2400. Board of Directors implements an Endowment Fund Campaign, and the first-time solicitation of Corporate Sponsorships: Target Stores ($15,000), and GTE ($10,000).
1987
SASO performs its first July 3rd Pops Concert on the New Riverstage to an estimated audience of 10,000.
1989 - 1990
Combined total annual audience reaches 25,000. Orchestra commits to employing 60 strings on concerts featuring symphonic literature.
1990
Town and Country Food Stores support the July 3rd Pops Concert with a $15,000 Corporate Sponsorship. 14,000 attended this concert.
1991
Performed the monumental work, Mahler: Symphony No. 2, the "Resurrection". Town & Country Food Stores increase funding for July 4th Concert to $20,000. The Endowment total value: $500,000+.
1992
Orchestra and Chorale perform Berloiz: Requiem. First season- Opening concert pair saw a total audience of 2,000.
1993
Symphony receives state-wide and national publicity and recognition for its youth programs and the July 3rd Pops concert. Attendance for July 3rd was an estimated 20,000.
1994
Orchestra and Chorale perform Beethoven: Missa Solemnis. Tim Forrester is employed as Manager and Marketing Director beginning a new era and focus on marketing and promotion.
1996
Gene Chartier Smith retires – Search for new conductor begins.
1997
Ron Spigelman becomes 5th conductor.
1998 - 1999
The SASO completes its 50th Anniversary season.
2002
Hector Guzman is named the 6th music Director and Conductor, in addition to his posts with the Plano Symphony and Irving Symphony Orchestras.
2004
The San Angelo Symphony performs its first run-out concert in Sonora, Texas.
2005
The San Angelo Symphony Guild celebrates its 50th Anniversary. The San Angelo Symphony hosts the Symphony of Horses, a unique event chronicling the evolution and history of the horse.
2006
At the February Concert, the San Angelo Symphony hosted the Texas premiere of a new work by living composer Joan Tower as a part of the Ford Made In America Consortium Project. Ms. Tower traveled to San Angelo to conduct her piece, "Made In America."
2012
The San Angelo Symphony Society initiates a contest in search of a new logo and selects a design showcasing the connection between the orchestra members and the audience in relation to seating, lighting, and venue. Symphony plays its 25th Anniversary performance of July 3rd Pops concert, sharing the quarter-century mark with the River Stage.
2014 - 2015
The SASO completes its 65th Anniversary season.
2016
Van Cliburn Silver Winner, Sean Chen, performs with the SASO in March and Gold Van Cliburn winner, Alexander Kobrin, performs with the SASO in October.
2017
The Symphony hosts The Culinary Challenge, a unique event involving community chefs and community partners. The Symphony orchestra plays the 30th Anniversary performance of July 3rd Pops concert at the Riverstage.
2017 - 2018
The San Angelo Symphony opens its 68th year of live performances in the newly renovated Elta Joyce Murphey Performance Hall and Stage at City Auditorium. The hall will be known as The Murphey.
2018 - 2019
The Symphony features the San Angelo Symphony Chorus at the Holiday Pops Concert. The Chorus is made up of community volunteers and Symphony Board members.
2019
The Symphony hosts the 2nd annual Culinary Challenge and names Chef Earl Mulley of Halfmann's Cake Cottage the winner.
2019 - 2020
The Symphony celebrates its 70th anniversary of live orchestral performance with The Platinum Season.
2021
The Symphony debuts the Gaelic Symphony composed by Amy
Beach at the opening concert, Women In Art & Music. Local artist and Arts
in Uncommon Places co-founder, Julie Raymond, paints live on the stage
alongside the orchestra.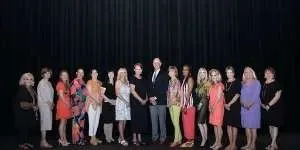 (Left to Right)Top Row: Michelle Taylor-Chinn, Dr. Jenny Wiggins-Smith, Trish Mertz, Camille Huchton, Janet Caskey, Louellen Meyer, Michelle Vanderzant, Meredythe McGlothlinBottom Row: Rev. William Proctor, Janie DeLaney, Candis Hicks, Linda Love-Cahill, Sharon Kulig,...
Strings
Violin I
Choung Vu, Concertmaster
Hubert Pralitz, Associate Concertmaster
Marina Dichenko
Leihlani Garcia Tamez
Sarah Figueroa
Violin II
Bethany Wildes, Principal
Klauida Cop
Crissanti Garcia Tamez
Christine Binzel
Samiel Rolim de Souza Araujo
Christopher Djinov
Viola
Stephen Beall, Principal
Laurielle Warren
Iva Raykova
Hollie Dzierzanowski
Oscar Rendon
Amberlee Reynolds
Cello
Laura Ospina, Principal
Shengni (Nini) Rubiano
Alexander Djinov
Benjamin Katzen
Aurelia Rocha
Ya-Chen (Jessy) Lee
Bass
Robert Marrufo, Principal
Peng Wang
Ian Grems
Wind
Flute
Sara Raviotta, Principal
Mary Alice Hubbert
Kathleen Dunn (Piccolo)
Oboe
Susanna Hilliard, Principal
Max Adler
Cathy Fowlkes (English Horn)
Clarinet
David Phillips, Principal
Sandra Fajardo
Chastine Hofmeister (Bass Clarinet)
Bassoon
Janelle Ott, Principal
Robert Rumph
Brass
Horn
Howard Hilliard, Principal
Brandon Stewart
Benjamin Raviotta
Janet Nye
Trumpet
John Irish, Principal
John Kennedy
Nickolas Martinez
Trombone
Tony Bianchetta, Principal
Jonathan Gill
Michael Lawson (Bass Trombone)
Tuba
Jeffrey Cottrell, Principal
Percussion
Timpani
James Bode, Principal
Percussion
Jeffrey Keene, Principal
Caleb Lenard
Nathan Garcia
Auditions
Offering the only orchestral music within a one-hundred mile radius, the San Angelo Symphony is made up of over ninety talented musicians.
Auditioning for the San Angelo Symphony:
To be considered for an invitation to audition, candidates should submit a resume and a video or recording showcasing their abilities.
Audition Date: TBD